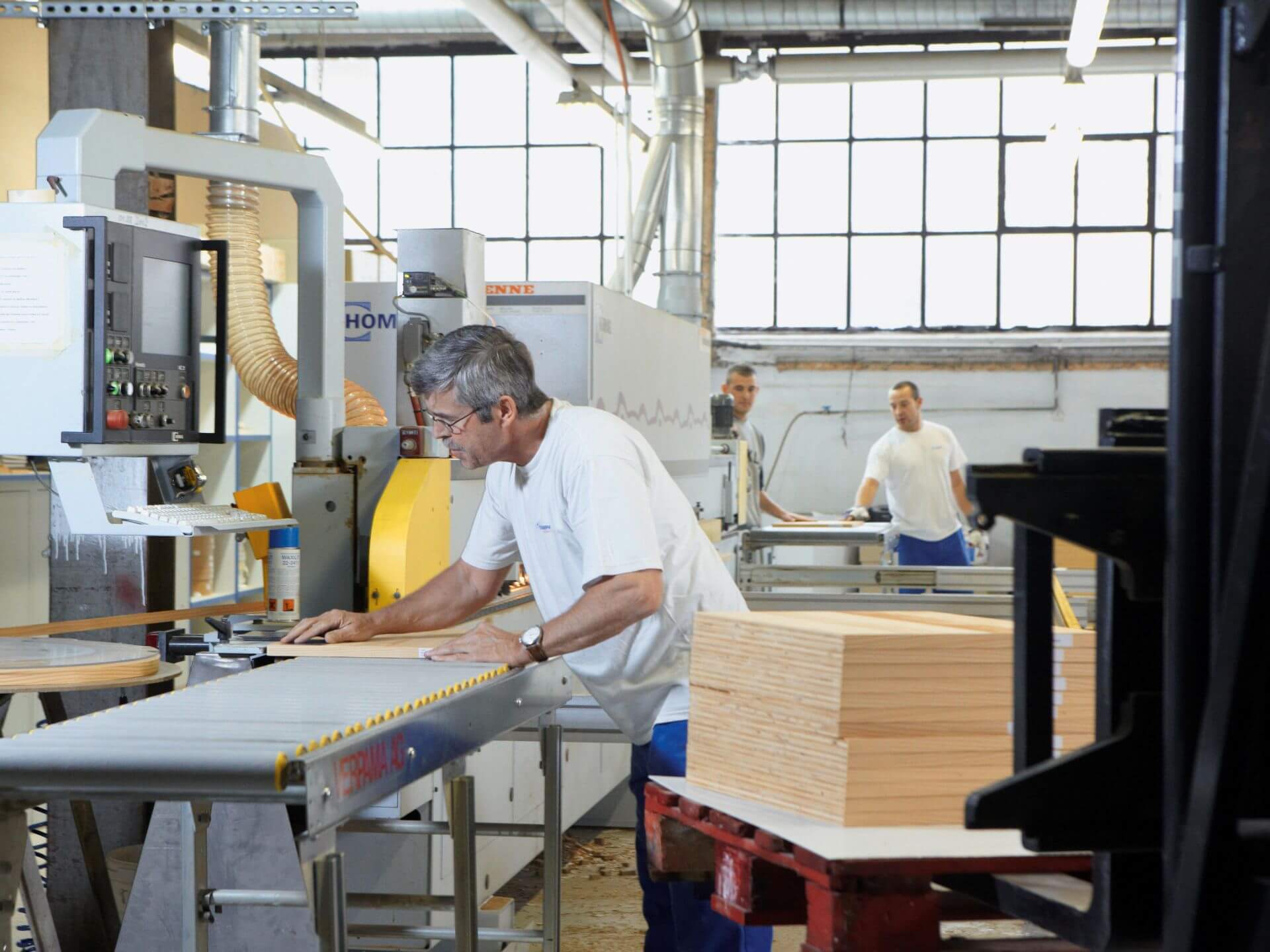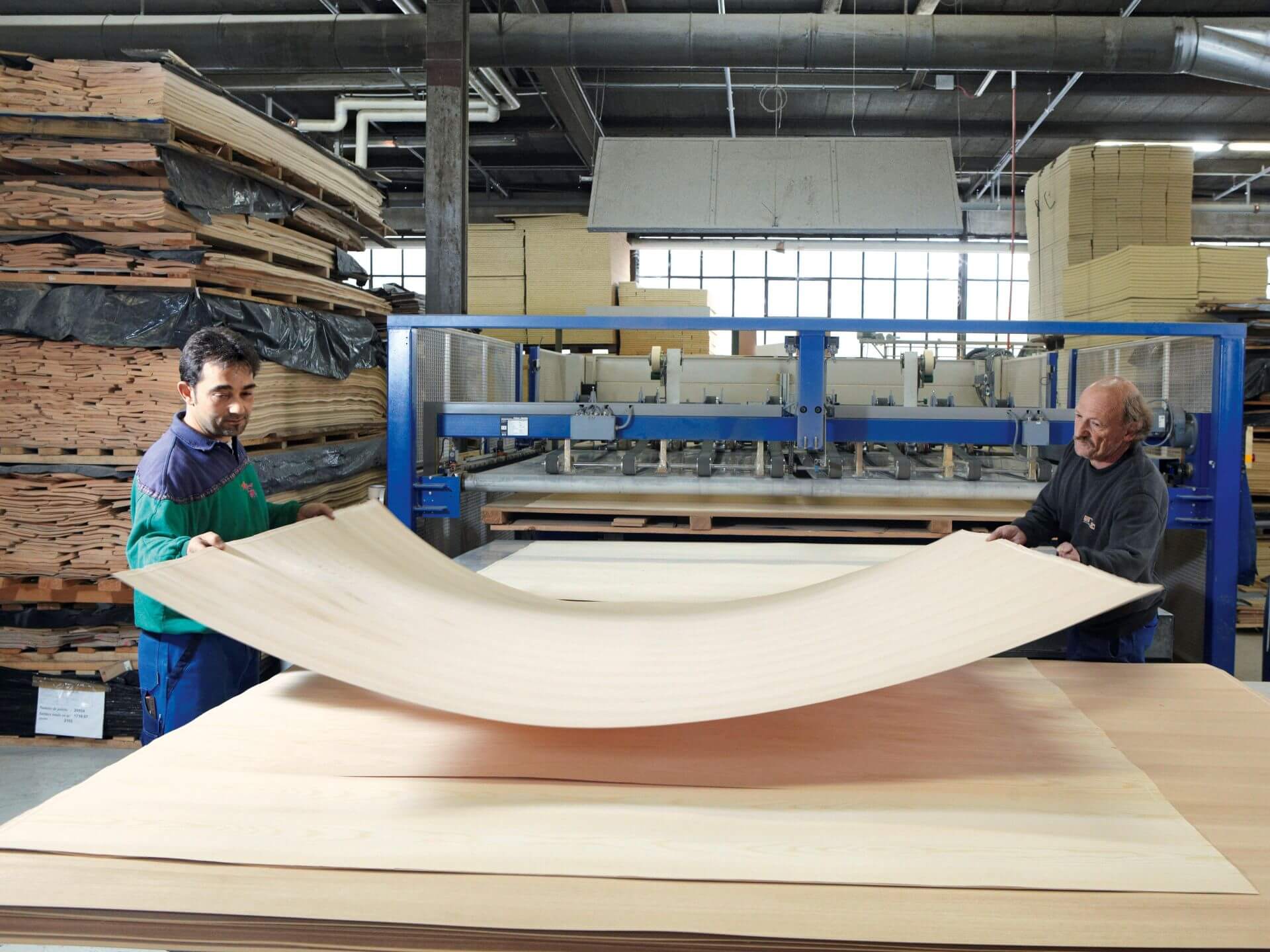 Our wood processing services
We offer a range of processing options regardless of the specific product. This includes all additional work that increases the production depth of the product. For example, executing special cuts, surface finishes or edge processing.
Good to know
Fire protection requirements
Fire protection requirements for interior design are becoming ever more stringent. So it's good to know that you don't have to do without the usual surface design options. Tavapan coats and processes the plasterboards just like normal wooden composite boards.

Moisture resistance
Our standard boards for general uses are also suitable for use in humid conditions and for use in rooms with temporarily elevated relative humidity.
Cutting
Veneered boards cut to finished or rough dimensions save veneer and in some cases are actually cheaper than if you cut whole boards yourself.
Veneered boards cut to finished or rough dimensions
The more expensive the veneer, the more profitable the cut boards
The veneer pattern can be taken into account
Fixed format according to parts list, incl. labelling
Cut to veneer design
Cut raw boards can also be ordered
Surface finish
Brushes
Chalet-style with rustic surface
3-layer solid timber boards
Board with extra thick veneers (f.e. oak, spruce)
| | |
| --- | --- |
| Formats | ≤ 5800 x 2400 mm |
| Minimum length | 800 mm |
UV coating line
Ecological UV-coating on water base
UV-oiled surfaces
Semi-gloss surfaces
White glazing at various grades of coating
| | |
| --- | --- |
| Formats | ≤ 4200 x 1250 mm |
| Thicknesses | ≤ 60 mm |
RAL/NCS color finishes
Painting through casting in RAL and NCS
| | |
| --- | --- |
| Formats | ≤ 4000 x 1100 mm |
| Thicknesses | ≤ 60 mm |
| Optional | UV-topcoat |
Automatic spray gun for slats in RAL and NCS colors
| | |
| --- | --- |
| Formats | ≤ 4080 x 250 mm |
| Thicknesses | ≤ 40 mm |
Spray painting in different coating types in RAL and NCS colors
Edge processing
The boards are profiled on request :
Tongue and groove
Tongue for spring connections
Stepped groove
Fold
Chamfer
Your own profile
We also coat tailored boards with veneer or ABS-edges:
HPL, CPL
PVC
ABS
Veneer edges 0.3 mm up to 2 mm thick, radius according to edge thickness
Solid timber edges up to 45 x 20 mm
| | |
| --- | --- |
| Min. board length | > 250 mm |
| Min. board width | > 55 mm |
| Min. board thickness | 11 - 60 mm |